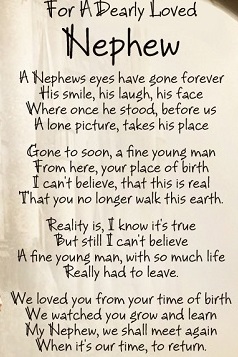 I cant believe there are days that I feel you & the other days reminder your not here where I can hug you & kiss your handsome face.This picture I saw & the words hit me like a bulldozer; Nicnic I miss you so much. (kiss my little girl Jenet please she comes to mind a lot tell her mommy loves her I will ho;d her again)

How time passes so fast & yet it feels like yesterday, words & pain is like dust in the wind no one sees, hears or feels your loss & pain. Sometime I think its better that way or maybe God intended it to be this way I have no idea but SILENCE is also devistating to the heart & soul. I find my self Nicnic in so much SILENCE I actually can hear my heart beat maybe its because I dont share my greif of loss with anyone except my pillows. I believe its better this way I dont burden my thoughts & feelings on anyone.





I cried two days ago missing Harry's hugs



& you Nicnic have the same hugs I became hysrerical & it made me more alone. Tell Harry I need his hugs sometimes so I can feel less heavy. Harry hugs always lifted any burden that sat on my mind, shoulder, heart & soul even physically I use to feel heavy burden & Harry hugged me I always felt like I was floating.

I will visit so again ask God to just give me my strength back so I can get back on my feet...thanks!

Teze loves you so much hugs & kisses from me also give Jenet Harry Farije Bute all my love I miss them so much!