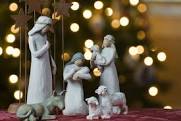 Nicnic Merry Christmas miss you so much you have no idea. Theres not a split second that your not on my mind. I just wonder where you go, who you visit, who you bother. I wish you were here with us, it really hurts that your not here. My heart is always in its own sorrow of missing you. My soul greives everyday
that goes by that my eyes don't see you, or touch you
. Tears flow like endless waterfall in silence
no one heres me or do I share except with you and God.

I keep believeing that its just a dream so when I do wake up I will get to see you and hug you.

Tell Harry, Farije, Bute, Don, Maryann, Grandpa, and everyone else that we all know & love I said Merry Christmas, please give Harry a huge hug because I miss our talks and his hugs that I need when I feel so alone with my thoughts and feelings.



Nicnic theres not enough words that can express on how I feel missing you; all I know that my soul, and heart shakes and it feels like I don't feel the ground beneath feet.
I haven't felt grounded since you left and I hope one day I wake up and realize its was just a dream.

For now in this dream I am writing to you to tell you I love you so much with a huge bear hug from me to you....love always Teze!