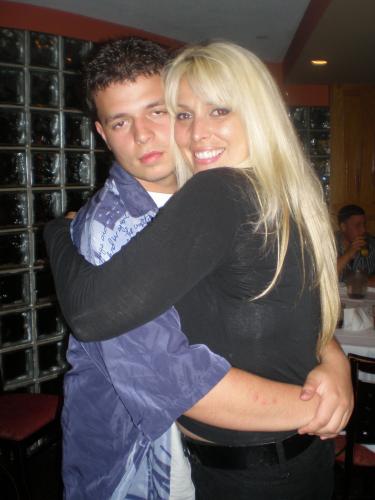 To My Soul, Serenity and Sanity...
We always said to eachother that we were as one... that is so true. I always knew that you were with me even when you weren't born. That's because you are my soul. When you was born, My soul split in two. You was me and I was you.... You were an amazing baby. You never cried and you had every reason not to cry., I remember when you was only one week old and you woke up crying with that little sqeeky cry. I could not help but cry too. I called your dad at work crying telling him i did not know what to do.. I felt my soul in so much pain and did not know what to do... Daddy came home and picked you up and started to rock you...he kept telling me calm down... he is ok.. babies cry! and I kept on crying... he then said ... " I dont know who i should be rocking you or him." You stopped crying and so did I ... It was then that I knew more so that I could never see your eyes with tears in it or your eyes sad... I never let anyone or anything make you sad... Do you remember when we were in pathmark... When i was pregnant with Mikey and I asked you to get the poly-o string cheese so that i can pay for the one I ate in the store... when those three men surrounded you and accused you of trying to steal the polly-o, Do you remember what I did to them when I saw the tears in your eyes... !!! Do you remember what I did to the Priest at that school who did not let you go to the bathroom? The Stories are endless... When I promised you that I would not ever let anyone make you cry or bring sadness to your eyes I meant it... To SEE YOU WITH SADNESS OR TEARS IN YOUR EYES .. Was to SEE MY OWN SOUL CRYING....
We were as one... You would look into my eyes and tell if I was aching inside... You would tell me " Mom I can feel your sadness, I know ...because we are the same.. we are one... Just like I knew when you were upset, or in deep thought about something.. I could feel it..Sometimes you would say to me " Mom this is really sick, How is it so possible that I can feel you and you me?" and as usual I would tell you that you were my soul... !
When we had our talks ... (.this occured almost every day and night)I constantly reminded you how I could not breathe without you and you would say to me I know mom because I cant breathe without you either... YOU WERE THE AIR THAT I BREATHED... You are still my air... I am struglling to breath now, MY LOVE... Every waking moment seems like a lifetime TOO long without you.. Its only 4 weeks and it seems like forever... the Pain and Sorrow thickens and there is no where I can find my air to breathe...
I try not to show my misery, my broken soul..(I am so broken) because your brother and Dad are struggling too... Its hard... there are no words to describe this pain.. I often say to myself, My God, now I know how you felt when your son Jesus was crucified... The pain is immeasurable. The sorrow to thick, the loss of will, unbuildable, the soul, unrepairable... the life, unlivable...the air, GONE!! I can only pray every day that I do not live a long life... ! I need to be able to breathe again, I need my soul to be Fixed... and you are the only one who can fix it... My Love!
I can't wait till I see you again... When that time comes I will truly be happy again. I MISS YOUR HUGS, KISSES DOWN MY NECK, ALL OVER MY FACE AND You wanting to puch your way back into my stomach... You always told me that you wanted to go back inside of me so you can live in there forever...Now, I just want to take back time so I can hold you in my arms forever and ever... !
I love you, my soul, serenity and sanity...